IN MEMORIAM:
DR. VITOMIR BEKRIĆ
(1933-2014)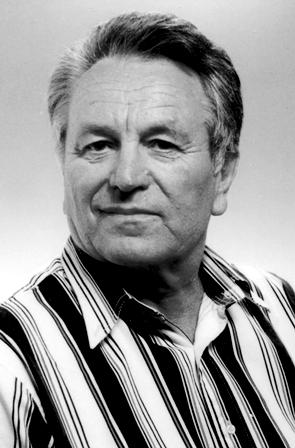 Dr. Vitomir Bekrić, retired Scientific Adviser from the Maize Research Institute, Zemun Polje, passed away on November 12, 2014. Dr. Bekrić was a prominent researcher and expert in the field of maize processing and utilisation, a scientist whose expertise has been recog-nised not only in our country but also world-wide. He was a true scholar with scientific curiosity, erudition and passion for learning that was very evident through his life.
Dr. Vitomir Bekrić was born in the village of Ribari, the municipality of Brus, Serbia, in 1933. He received primary education in Aleksandrovac and Brus prior to attending secondary school in Sme-derevo and Priština. In 1960, he graduated from the University of Bel-grade, Department of Agriculture. Dr. Bekrić defended his Ph.D. thesis at the University of Sarajevo, Department of Agriculture in 1975.
Dr. Bekrić started his professional carrier as an Agricultural Technician in Poljna in 1953. After graduating from the University of Belgrade, he worked as a Lead Agronomist in Bečej. In 1962, he began working at the Yugoslav Chamber of Commerce where he coordinated the development of feed industry in Yugoslavia. In 1974, Dr. Bekrić joined the Maize Research Institute, Zemun Polje where he spent most of his career and rose through the ranks to retire as a Scientific Adviser in 2000.
In the Maize Research Institute, Zemun Polje, Dr. Bekrić was dedicated to the application of innovative, modern approaches in the field of maize processing and utilisation. He was one of the founders and a long-time Head of Research and Development of the Food Technology Department. Dr. Bekrić's program approaches have been foundation for current research conducted in the Department – a true testament to his visionary work. Furthermore, for a 1994-2000 period, Dr. Bekrić supervised successful completion of a project "The Development of Processed Food Products of Maize, Soya Bean and Other Grains Utilising the New Technical and Technological Processes" funded by the Federal Ministry of Development, Science and Environment.
Impressive scientific and professional career of Dr. Bekrić is exemplified by numerous publications in national and international scientific journals, a great number of oral and poster presentations given at conferences worldwide, as well as, many studies, project analyses, expert reports, reviews and scientific articles.
Dr. Vitomir Bekrić was a very prolific writer. He is the author of two exceptional monographs which reflect and encompass forty years of his extremely productive academic and professional experience. The monograph titled "The Maize Utilisation" represents his life's work and is the most important book on the topic published in the region. The monograph titled "The Feed Production for Industrial Uses" is an extremely valuable contribution both from theoretical and empirical aspects. Furthermore, Dr. Bekrić co-authored two very valuable publications: "Grains in Yugoslavia" and "Food and Development".
Dr. Vitomir Bekrić worked tirelessly to introduce modern technology approaches for processing of grain products. He conceptualised and developed an experimental, small-scale processing plant that could be used for processing maize, soya bean and other field crop products. This innovative approach was a unique, pioneering venture for the region of the former Yugoslavia. Dr. Bekrić's exceptional visionary attributes were once again demonstrated by introduction of micronisation and extrusion technologies. By applying these technologies he managed to develop many value-added commercial products for feed and food utilisation. Additionally, Dr. Bekrić contributed to developing and streamlining the innovative technological work-flow for product grinding and air separation which enabled superior maize cob processing and obtaining various lignocellulose granules, that can be used in different industry fields, in agriculture and which contribute to environmental protection.
Dr. Vitomir Bekrić was a unique scientist that throughout his career maintained enthusiasm and interest for a wide array of topics. He unselfishly shared his ideas and worked with diverse teams to find pragmatic solutions for his scientific innovations that focused on production and improvement of grain utilisation.
Outstanding human, scientific, professional and pedagogical qualities of Dr. Vitomir Bekrić will be missed by all who knew him and worked together with him. Dr. Bekrić will continue to be an inspiration for younger generations, a bright and shining example of an enthusiastic and dedicated scientist with a successful and fulfilling professional career and personal life.
The excerpt from the speech of Dr. Milica Radosavljević, Scientific Adviser in the Maize Research Institute, Zemun Polje, given at commemoration of the passing of Dr. Vitomir Bekrić, held on November 20, 2014 in the Maize Research Institute, Zemun Polje, Belgrade-Zemun.
SEĆANJE: DR VITOMIR BEKRIĆ (1933-2014)
Dana 12. novembra 2014. godine preminuo je dr Vitomir Bekrić, naučni savetnik Instituta za kukuruz "Zemun Polje" u penziji, čovek velike erudicije i znanja. Dr Bekrić je bio ugledni istraživač i stručnjak u oblasti prerade i korišćenja kukuruza, neuporediv, vrhunski autoritet u našoj zemlji pa i van naših prostora. Tokom čitavog svog života on je bio pravi naučnik sa naučničkom radoznalošću i strašću za novim saznanjima.
Dr Vitomir Bekrić rođen je 1933. godine u selu Ribari, opština Brus, Srbija. Niže škole završio je u Aleksandrovcu i Brusu. Srednje obra-zovanje sticao je u Smederevu i Prištini. Diplomirao je na Poljopriv-rednom fakultetu u Zemunu 1960. godine, a doktorirao na Poljoprivred-nom fakultetu u Sarajevu 1975. godine.
Profesionalnu karijeru započeo je 1953. godine, kao poljoprivredni tehničar u Poljni. Nakon diplomiranja na Poljoprivrednom fakultetu radio je u Bečeju kao glavni agronom. Dr Bekrić se 1962. godine zaposlio u Privrednoj komori Jugoslavije, gde je koordinirao razvoj industrije stočne hrane u Jugoslaviji. Godine 1974. prešao je u Institut za kukuruz, u kome je proveo i najveći deo svog radnog veka u svim naučnim zvanjima, da bi se kao naučni savetnik penzionisao 2000. godine.
U Institutu za kukuruz dr Bekrić je bio posvećen primeni inovativnih, savremenih trendova u oblasti prerade i korišćenja kukuruza. Bio je jedan od osnivača i dugogodišnji rukovodilac Odseka za tehnološka istraživanja. Programski pristupi dr Bekrića bili su temelj za sadašnja istraživanja koja se sprovode u Odseku za tehnološka istraživanja - pravi dokaz za njegov vizionarski rad. Osim toga, dr Bekrić je u periodu od 1994. do 2000. godine rukovodio uspešno završenim projektom: "Razvoj novog asortimana hrane i tehničkih proizvoda od kukuruza, soje i drugog zrnevlja primenom novih tehničkotehnoloških postupaka", koji je finansiralo Savezno ministarstvo za razvoj, nauku i životnu sredinu.
Blistava naučna i stručna delatnost dr Bekrića ogleda se i u brojnim radovima objavljenim u stranim i domaćim časopisima, saopštenjima prezentovanim na međunarodnim i domaćim skupovima, kao i studijama, elaboratima, ekspertizama, recenzijama, referatima.
Dr Vitomir Bekrić bio je veoma plodan pisac. Autor je dve izuzetne monografije koje odražavaju i obuhvataju četrdeset godina njegovog izuzetno bogatog naučnog i stručnog iskustva. Monografija pod nazivom: "Upotreba kukuruza" predstavlja njegovo životno delo i najznačajnija je publikacija o toj temi objavljena u regionu. Monografija sa nazivom "Industrijska proizvodnja stočne hrane"izuzetno je vredan doprinos, kako teoriji, tako i praksi. Dr Bekrić je takođe i koautor dve veoma važne publikacije: "Žita Jugoslavije" i "Hrana i razvoj".
Dr Vitomir Bekrić je neumorno radio na uvođenju savremene tehnologije za preradu zrnastih proizvoda. Osmislio je i razvio eksperimentalni pogon za preradu i razvoj novih proizvoda na bazi kukuruza, soje i drugih ratarskih biljaka. Ovaj inovativni pristup bio je jedinstven, pionirski poduhvat za prostor bivše Jugoslavije. Vizionarski je uveo tehnologiju mikronizacije, a potom i tehnologiju ekstruzije. Njihovom primenom je uspeo da razvije više komercijalnih proizvoda visokovredne hrane za ljude i životinje. Pored toga, dr Bekrić je doprineo razvoju i unapređenju tehnološke linije za mlevenje i vazdušnu separaciju, koja je omogućila jedinstvenu preradu kukuruznog oklaska i dobijanje različitih lignoceluloznih granulata, koji mogu biti korišćeni u različitim granama industrije, poljoprivrede i koji doprinose zaštiti životne sredine.
Dr Vitomir Bekrić bio je izvanredan naučnik, koji je tokom čitave svoje karijere zadržao entuzijazam i širok opseg interesovanja. Nesebično je delio svoje ideje i radio sa različitim timovima na iznalaženju praktičnih rešenja za svoje naučne inovacije, koje su bile fokusirane na proizvodnju i unapređenje korišćenja žita.
Izuzetni ljudski, naučni, stručni i pedagoški kvaliteti dr Vitomira Bekrića nedostajaće svima koji su ga poznavali i radili s njim. Dr Bekrić će i dalje biti inspiracija mlađim generacijama, blistav i svetao primer stravstvenog i predanog naučnika koji je imao uspešan i sadržajan, kako profesionalni, tako i privatni život.
Izvod iz govora dr Milice Radosavljević, naučnog savetnika Instituta za kukuruz "Zemun Polje" sa komemoracije povodom smrti dr Vitomira Bekrića, održane 20. novembra 2014. godine u Institutu za kukuruz "Zemun Polje", Beograd-Zemun.
Download full article PDF
DOWNLOAD PDF