CHARACTERIZATION OF ORGANICALLY GROWN SPELT CULTIVARS FOR CRACKER-MAKING APPLICATIONS
DOI:
UDK:
JOURNAL No:
Volume 39, Issue 2
PAGES
61-68
KEYWORDS
cracker, spelt, flour, snap back, hardness.
Bojana V. Filipčev*1, Marija I. Bodroža-Solarov1, Jovana Brkljača1
1University of Novi Sad, Institute of Food Technology, Bul. cara Lazara 1, 21000 Novi Sad, Serbia
ABSTRACT
The shifting of eating patterns towards more natural and healthy foods governed by health concerns has created a need to broaden the assortment of organic food offered in retail markets. Among cereals, spelt wheat has emerged as a promising alternative due to its suitability for growing under conditions employing environment friendly practices. Spelt is mostly consumed as bread although its bread-making ability is much poorer in comparison to common wheat. Crackers are popular unsweetened biscuits which production requires weaker flours than those necessary in bread-making but stronger than those in cookie-making. Thus, it seemed challenging to investigate the cracker-making ability of spelt. In this paper, two spelt accessions (differing in bread-making performance) grown under organic conditions were evaluated. It was found that spelt crackers showed lower tendency towards shape deformation but had lower ovenspring. Spelt crackers developed less hard textures without impairing their fracturability in comparison to a cracker made from common wheat.
INTRODUCTION
Crackers belong to a special group of dry long shelf-life biscuits with most of the doughs fermented with yeast (Manley, 2000; Gavrilović, 2003). Crackers are basically saltine and low in sugar, thin and crisp. Usually sponge-and-dough method involving longer periods of dough fermentation (up to 24 h) is used in the production. After fermentation, the dough is laminated while layers of fat are rolled in, which contributes to flaky cracker structure. Regarding eating quality, crackers should not be hard but soft and should not shatter and crumble. The expected flavour of crackers is rather neutral than saltine but nutty flavour is strongly desirable. Crackers are used to substitute bread.
Versatile groups of crackers exist depending on formulation, fermentation and lamination (Manley, 2000). Manley (2000) distinguishes three major types of crackers: cream crackers, soda crackers and savoury crackers. Cream and soda crackers are yeast leavened and laminated whereas savoury crackers are chemically leavened and not laminated.
For commercial cracker production different flour quality requirements exist in comparison to biscuit production. Generally, stronger soft wheat flours (A2 or B1 quality group) for sponge dough and weaker soft flour (B2 or C1) for main dough are preferred (Gavrilović, 2003). According to Manley (2000), soft wheat or blends of soft and hard wheat are used in industrial cracker production.
Spelt wheat (Triticum aestivum ssp. spelta L. Thell.) is an ancient sub-species of common wheat (Triticum aestivum ssp. aestivum). Although dominated by common wheat for centuries, spelt has been receiving increasing interest during the last three decades mostly due to recognition of its ecological value. Spelt does not require intensive cultivation, nitrogen fertilization and chemical protection as wheat does. The nutritive value of spelt is similar to that of wheat (Grela, 1996) or even higher as shown by numerous studies. For example, in comparison to wheat, spelt was found to be higher in minerals (Piergiovanni et al. 1997); higher in selenium content (Zhao et al. 2009); higher in protein content (Skrabanja et al. 2001, Kohajdova&Karičova, 2008, Siemianowska et al. 2011); abundant in soluble fibres (Bonifacia et al. 2000) and has more favourable ratio of unsaturated to saturated fatty acids (Ruibal-Mendieta et al. 2004). Spelt is frequently communicated in folk medicine as therapeutic for a range of disorders such as ulcerous colitis, elevated serum cholesterol, neurodermatitis, hypertension, rheumatoid arthritis, depression and cancer even though little of these claims have scientific background. From the point of view of bread-making, spelt is rather impaired in comparison to modern wheat. Although it contains higher amounts of gluten, its characteristics are poor and spelt forms dough which is less stable, extensible, soft and sticky. But, since spelt species are often crossed with winter wheat for various improvements in agronomic features and processing quality, the spelt varieties with T. aestivum L. genome are characterized with suitable bread-making ability. Genetically pure spelt varieties are of lower processing quality (Lacko-Bartošova&Rédlová, 2007).
Currently there is considerable interest in spelt food among consumers due to increased focus on organic food and healthy life style. Spelt is mostly consumed as bread but other food products are readily available such as cookies, snacks, buns&rolls, pizza crusts, cereal flakes… There are attempts to include spelt wheat in the manufacture of frozen bakery products (Šimurina, 2011). Spelt flour is also considered suitable for pasta production. Abdel-Aal et al. (1998) recommended its usage in Arabian flat bread production. In spite of inferior processing performance, it seems that spelt wheat has fairly good potential for a variety of end-products normally processed from common wheat. Naturally, its performance will depend on genotype, varietal divergences and processing conditions.
Since spelt wheat exhibits rheological behaviour similar to soft wheats, it may be suitable for use in industries that require weaker flour such as biscuit and cracker production. This paper is therefore targeted to examine the performance of two organically grown spelt cultivars for cracker-making.
MATERIALS AND METHODS
A commercial wheat flour T-500 was provided by Julia Mlin d.o.o. from Feketić, Serbia and two spelt flours were supplied from organic farm Jevtić at Bačko Gradište, Serbia. Two spelt cultivars of a few, currently at disposal to organic farmers in Serbia (Filipčev et al., 2012a), were chosen: one was Eko-10 originating from Hungary and the other was a cultivar yet non-identified, originating from Austria or Germany.
Protein and ash contents were determined according to official methods regulated by official rulebook (Pravilnik, 74/1988). Determination of rheological properties of flour included farinograph analyses ICC (method № 115) and alveograph analyses (ICC method № 121).
The crackers were prepared according to formulation and procedure described previously by Rogers and Hoseney (1987). The dough batch size was based on 500 g of flour. Following the stages of dough mixing and fermentation, the final dough was gradually sheeted on a laminator to a final roll gap of 2.5 mm. The dough piece was folded four times at 3.5 mm roll gap. After final thinning, the dough was cut using a custom made hand cutter (50 x 59 mm, 20 docker pins). Biscuits were baked for 7 min at 250°C.
Texture analysis of crackers was performed on a texture analyzer TA.XTplus (SMS, UK). Two tests were conducted: a breaking strength test by three-point bending method and a bite test according to Volodkevich. The experimental conditions for breaking strength were test speed 3.0 mm/s, distance 5 mm, trigger force 50 g, supports were 28 mm apart. The maximum force at break and mean distance at break were recorded and corresponded to product hardness and fracturability. Volodkevich Bite Jaw was used to penetrate the sample to 50% strain at 2 mm/s speed. The maximum force at penetration was measured.
Statistical analysis
One-way ANOVA was conducted to study the differences between formulations. Tukey's test at p<0.05 significance was used to differentiate the samples when significant difference was found. Software Statistica release 7 (StatSoft, Tulsa, OK) was used in data analysis. At least, ten replicates of each sample were measured except chemical and rheological analyses which included three replicates.
RESULTS AND DISCUSSION
Properties of flours are described in Table 1. Commercial wheat flour was characterized with lower ash and protein content but much higher energy. Both spelt cultivars were weaker as seen from the rheological data (lower tenacity, lower deformation energy, higher softening). Spelt wheat generally has proteins that form weak network in comparison to common wheat. Spelt doughs are usually sticky and extensible, however, there was significant difference in extensibility between the tested spelt cultivars. Spelt cv. SPE showed similar extensibility to commercial wheat sample. Critical ingredient in cracker-making is flour. Usually a bread flour of weaker dough properties is utilized. However, in contrast to cookies, cracker production requires somewhat higher gluten strength to withstand lamination and for ovenspring. It was shown in a previous preliminary work (Filipčev et al. 2012b) that the non-identified spelt cultivar exhibited moderate bread-making performance whereas spelt cv. Eko-10 exerted much poorer properties. It was confirmed that the observed bread-making performance of the tested spelt samples was in line with their genetic potential (Filipčev et al. 2012b).
Table 1. Quality parameters of flours.

Cracker sample

Ash
(%)

Protein (%)

Absorption (%)

Stability
(min)

Softening
(B.U.)

Quality group

Tenacity
(mm H2O)

L
(mm)

Index of swelling

W
(10-4J)

Common wheat

0.52a

11.16
a

58.5b

0.5a

60a

B-1

72b

73a

19a

173c

Non-identified spelt cv.

1.52b

13.75b

57.8a

0.5a

75b

B-1

27a

121b

27b

55.0b

Spelt cv. Eko-10

1.36b

15.03b

60.2c

0.5a

120c

C-1

25a

79a

25b

34.0a
a,b,c Means within columns followed by different letters are significantly different (P<0.05).
Figure 1 presents crackers baked from the tested flour samples. Parameters that define the cracker geometry and weight are displayed in Table 2. As a quality criterion, the most frequently used parameters for cracker quality are the stack height (H10), stack weight (Wt10), and their ratio (H10/Wt10) (Rogers&Hoseney, 1989; Creighton&Hoseney, 1990). Good quality crackers are described with higher H10/Wt10 ratio. However, in the study of Pérez et al. (2003) this parameter was found inadequate to describe the best crackers. Snap back (width/length ratio, W/L) is also commonly used in estimating the cracker quality and indicates the extent of product deformation. In our study, crackers made from common wheat had the greatest W/L ratio due to considerable length shrinkage. Spelt crackers showed much less geometry deformation; their W/L ratio was the same as the ratio of cutter which imply to minimum deformation or at least proportional deformation in crackers' width and length.
The width to height ratio (W/H) or, commonly designated as cookie factor, is also applied to describe the quality of crackers. The highest values are associated with better quality. For spelt crackers, cookie factor was significantly higher (6.75-7.00) than that of the control (5.74).
In an attempt to evaluate the utilization of triticale flour for cracker-making, Pérez and co-workers (2003) found that the ratio between the average width and length and stack height, which indicates the ratio between extensibility and height was the best indicator for determining the optimum cracker quality. They concluded that higher WL/H10- value crackers had better performance. In our, study, spelt crackers had significantly higher values (0.74-0.76) for this parameter than the control (0.61).
Kweon and co-workers (2011) consider the effect of dough weight on cracker height as important in cracker geometry evolution and use the ratio H/DWt to differentiate between the cracker-baking performances of flours. Higher values of this ratio mean higher ovenspring which is a desirable attribute. Spelt cracker made from the non-identified spelt cultivar had higher values for this parameter, comparable to that of the control. This could be explained by higher gluten strength of these flours allowing more effective expansion during baking, in comparison to cv. Eko-10. In addition, the control dough was more elastic therefore it contracted after lamination giving thicker dough pieces and, consequently, thicker crackers after baking.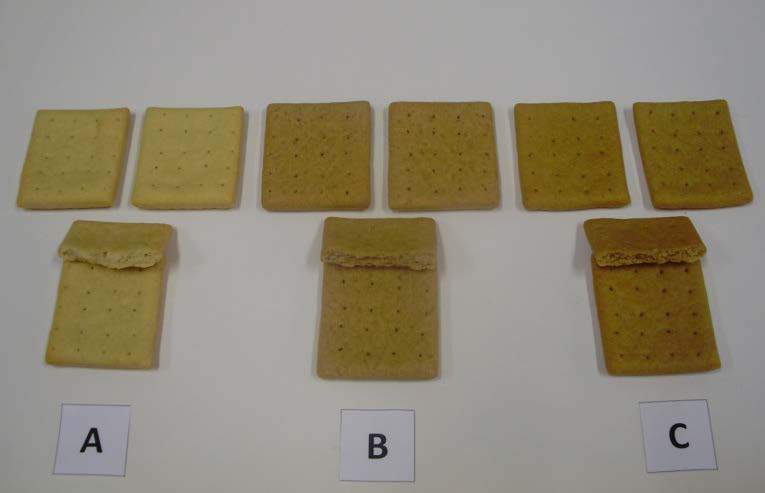 Fig. 1.
Crackers made from commercial wheat flour (A), non-identified spelt cultivar (B), and spelt cultivar Eko-10
Table 2. Quality attributes of crackers.

Cracker sample

Dough weight, DWt
(g)

Dough height,
DH
(mm)

Width,
W
(mm)

Length,
L
(mm)

Mean between W L
(mm)

Height (10 pieces),
H10
(mm)

Weight (10 pieces),
Wt10
(g)

W/L

W/H

H10/Wt10

WL/ H10

H/DWt

Common wheat

14.02a

4.02a

48.03a,b

53.34a

50.68a

83.67b

98.73а

0.90b

5.74a

0.85b

0.61a

0.60b

Non-identified spelt cv.

12.42a

3.71a

46.83a

55.10b

50.97a

69.33a

82.91а

0.85a

6.75b

0.84b

0.74b

0.56b

Spelt cv. Eko-10

14.16a

3.80a

48.78b

57.18c

52.98b

69.67b

99.38а

0.85a

7.00b

0.70a

0.76b

0.49a
Cutter W/L was 0.85. a,b Means within columns followed by different letters are significantly different (P<0.05).
The texture of crackers is displayed in Table 3. The highest value of peak force in both bending and bite tests corresponded to cracker prepared from common wheat indicating higher hardness due to more interconnected gluten matrix which is a characteristic of common wheat. Weaker structured and low elastic gluten matrix in spelt wheats caused lowering of peak forces needed for cracker snapping and penetration. There was no significant difference in the fracturability among the tested crackers indicating similar resistance to bending. The Volodkevich Bite test measures textural properties by imitating mastication. The control cracker showed a penetration curve with the highest maximum; after the peak the penetration values sharply dropped indicating easy disintegration of sample while probe moving (Figure 1). The curves for spelt crackers differed in shape in comparison to the control; the peak values were lower and the penetration values did not exhibit such a sharp drop but developed a somewhat shoulder-shaped part which indicated less brittle fracture and higher cohesiveness. This might have repercussion in somewhat increased chewiness.
Table 3. Texture profile of crackers

Cracker sample

Biscuit bending

Bite test

Hardness (kg)

Fracturability
(mm)

Hardness
(kg)

Common wheat

10.89b

1.52a

6.20b

Non-identified spelt cv.

8.98a,b

1.64a

5.51a,b

Spelt cv. Eko-10

6.63a

1.33a

4.75a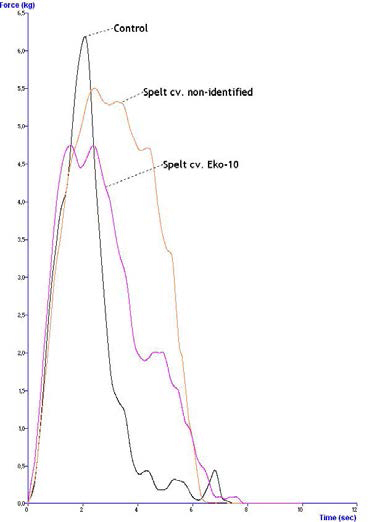 Fig. 2.
Volodkevich Bite test of crackers
CONCLUSION
These results have shown fairly good potential of spelt wheat for cracker production. Spelt crackers showed several advantageous attributes over crackers made from common wheat: lower tendency toward shape deformation as indicated by lower snap back, and satisfactory values for factors that describe the balance in cracker geometry such as higher cookie factor and higher ratio between mean width/length and height. However, ovenspring in spelt wheats tended to be lower and only the unknown spelt cultivar exhibited ovenspring comparable to that of common wheat which is due to more favourable dough rheological properties i.e. stronger dough. Spelt crackers developed less hard textures.
ACKNOWLEDGEMENT
The results presented here are a part of research work conducted within project III 46005 supported by the Ministry of Education, Science and Technological Development of the Republic of Serbia.
Download full article PDF
DOWNLOAD PDF